THE CORN REFINING PROCESS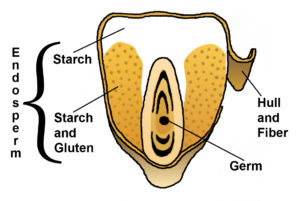 For more than 150 years, corn refiners have been perfecting the process of separating corn into its component parts to create a myriad of value added products. The corn wet milling process separates corn into its four basic components: starch, germ, fiber, and protein.
There are five basic steps to accomplish this process. First the incoming corn is inspected and cleaned. Then it is steeped for 30 to 40 hours to begin breaking the starch and protein bonds. The next step in the process involves a coarse grind to separate the germ from the rest of the kernel. The remaining slurry consisting of fiber, starch, and protein is finely ground and screened to separate the fiber from the starch and protein. The starch is separated from the remaining slurry in hydrocyclones. The starch then can be converted to syrup or it can be made into several other products through a fermentation process.
You can see (and print) an overview of the corn refining process or select any of the items above to be directed to more information on that topic. You can also review the process flow chart.

Learn more about the history of corn refining and visit our frequently asked questions for additional information.