Jessica Bowman, Vice President of Advanced Bioproducts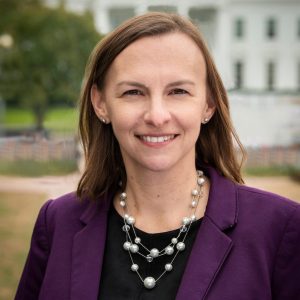 Meet Jessica Bowman, Vice President of Advanced Bioproducts. Jessica joined CRA in 2019, bringing nearly two decades of experience in trade associations in the chemical and aviation sectors. She provides strategic leadership to CRA and its members regarding legislative and regulatory priorities and industry affairs. Jessica is also Executive Director of the Plant Based Products Council (PBPC), where she advocates for broader adoption of renewable, plant-based product inputs. By pushing for collaboration and forward thinking on nuanced policy issues, Jessica provides dynamic leadership to PBPC and its various members to align on a single mission.
Read on to learn more about Jessica, in her own words:
Q: How long have you been with the Corn Refiners Association, and what is your role in the organization?

I started working for CRA in October 2019. Within CRA, I serve as the Vice President of Advanced Bioproducts where I lead the Advanced Bioproducts Committee, overseeing legislative and regulatory priorities focused on policies related to advanced bioproducts. I also serve as the Executive Director of the Plant Based Products Council, a separate entity CRA launched in January 2019 that advocates for broader adoption of products made from renewable, plant-based inputs.
Q: What's a typical day at work like for you?
No two days are the same! On any given day I could be talking to a PBPC member about their sustainability efforts, advocating for CRA or PBPC's policy priorities on Capitol Hill, collaborating with colleagues on a communications strategy, or representing PBPC on a webinar to educate stakeholders about the many benefits of plant-based products.
Q: What do you like most about your job/working at CRA?
I really enjoy the fact that every day is different, with a regular stream of new challenges, issues, and strategies to execute. Getting PBPC off the ground and running includes the unique challenge of bringing together a number of companies and organizations that, while sharing a common vision, have not all necessarily worked together before. Helping to foster collaboration, make connections, and move us closer to that common vision is really motivating to me. And not to be overlooked, I also enjoy the opportunity to play an important role in creating a more sustainable future.
Q: How has your past experience prepared you for your current role?
I've spent my entire career working for associations, representing the chemical and aviation industries before joining CRA. Working for an association is a unique, and sometimes challenging role, bringing together both similar and often disparate perspectives on matters to forge a collective path forward that best advances that industry's interests. I've often been referred to as a "cat herder," and more than once a "feral cat herder."
Q: How do you spend your time away from the office? Do you have any special hobbies?
Much of my time away from my office is devoted to my family, including my 5-year-old twin daughters and 2-year-old son. We stay busy with trips to local parks and museums, games, soccer, swimming, reading, etc. They don't leave me a lot of free time for hobbies, but I try to dabble a little in some of the things I enjoyed pre-kids, like photography, cooking, and watching Penn State football.