TRADE UPDATE
Food & Agriculture
March 1, 2022
By Michael Anderson, Vice President of Trade and Industry Affairs
HIGHLIGHTS
"These are not easy conversations, and in fact they have gotten more difficult over time."

— Ambassador Katherine Tai referencing discussions with China regrading fulfilling its Phase One agreement commitments
USMCA
U.S.-Canada dairy dispute creates unease within the industry
Dairy industry actors are pessimistic about the potential outcomes of the USMCA Canadian dairy restriction dispute. It has been over a month since a USMCA panel ruled in favor of the U.S. complaint that Canada is breaching its USMCA commitments by reserving most of the in-quota quantity in its dairy tariff-rate quotas (TRQs) for the exclusive use of Canadian processors. The U.S. and Canada have yet to reach an agreement on the matter.

In conversation with several dairy company leaders, Agri-pulse reported an overall feeling of concern from the industry. The CEO of the world's largest producer of mozzarella cheese, Mike Durkin of Leprino Foods Company expressed his views on the situation, "I just don't see how they're going to change anything to allow our products to come in because we would displace Canadian cheese."

Pat Pelliccione, chairman of the International Cheese Council of Canada and president of the Ontario-based importing company Jan K. Overweel Ltd., shared his thoughts on how the Canadian government will address the panel ruling. "My past experience is they're going to try to get around it in any way they can," said Pelliccione.

Agri-pulse also spoke with Karl Littler, a senior vice president for the Retail Council of Canada, who noted, "Basically the (Canadian) government is completely beholden to the domestic producer and processor lobby…In this case we are cheering on the U.S. government as it pushes to actually have some of the free trade benefits go to (Canadian) consumers rather than producers and processors."

If U.S. and Canada fail to reach an agreement on the issue, the U.S. has the right to retaliate under the USMCA.
The U.S. warns Canada on DST
The U.S. told Canada it would take counter action should Canada proceed with plans to enact a digital services tax (DST). In comments filed with the Canadian government, the Office of USTR noted its serious concerns about Canada's proposed DST, saying that it would single out U.S. companies for taxation while effectively excluding similar Canadian companies. USTR warned that "Should Canada adopt a DST, USTR would examine all options, including under our trade agreements and domestic statutes." USTR encouraged Canada to focus on its stated commitment to the Organization for Economic Cooperation and Development agreement to adopt a uniform digital tax scheme, rather than a unilateral DST proposal. USTR said, "Instead of pursuing a counterproductive unilateral measure that risks encouraging other countries to follow suit thus undermining the ongoing negotiations, Canada can focus efforts on engaging constructively in the multilateral OECD negotiations – ensuring that its unilateral measure proposal is unnecessary and that Canadian interests are protected." Canada's DST would duplicate the digital taxes adopted in France, Italy, Spain, Turkey and the United Kingdom that the USTR office found actionable under a Section 301 investigation, which could ultimately result in retaliatory tariffs.
China Trade
China trade relations getting more difficult
Ambassador Tai gave a frank assessment of current U.S. – China trade relations as increasingly challenging and complex. Referencing discussions with China on fulfilling its Phase One commitments, Tai said, "These are not easy conversations, and in fact they have gotten more difficult over time." Speaking at USDA's annual Agriculture Outlook Forum, Tai indicated that USTR officials over the past several months have pursued engagement with Chinese counterparts to hold the country accountable for failing to meet commitments made under the Phase One deal. "[W]hen you look at the level of commitments on purchases — agricultural and non-agricultural — that the Chinese made to the U.S. government and to U.S. producers two years ago, that the performance has been uneven and that we have shortfalls that we have to contend with," she added.
Chinese imports sidestepped U.S. tariffs and restrictions through loopholes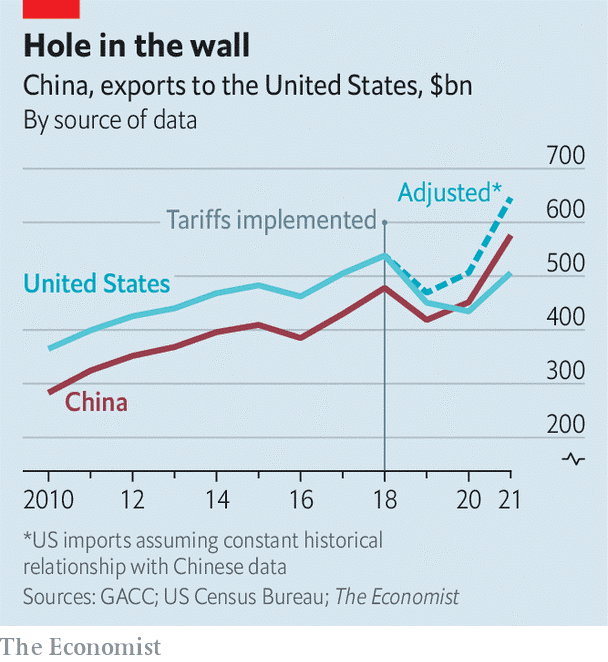 The Economist calculated the value of Chinese goods that avoided U.S. tariffs may have been higher than $100 billion in 2021. U.S. trade figures show America bought $506 billion worth of Chinese goods, while Chinese trade figures show the U.S. bought $576 worth of Chinese goods. Moreover, the Chinese calculation of American imports of Chinese goods may be significantly lower than the true value as China has consistently undervalued its exports to the U.S. by around 18%.

Lawmakers have attributed China's ability to dodge U.S. duties to the raising of the de minimis threshold from $200 to $800, allowing importers to avoid duties and data collection on Chinese imports under $800.

The Economist also theorizes businesses may be presenting false information to customs' inspectors. By falsifying country of origin labeling and underestimating import values, American importers may have evaded tariffs on Chinese goods.
Phase One Agreement
House republicans want USTR to enforce Phase One
In a letter addressed to Ambassador Tai, House Ways and Means republicans appealed to the Biden Administration to construct an action plan, targeting China's predatory trade practices and enforce the Phase One agreement. "If the Biden Administration is committed to enforcing the Phase One Agreement on its terms, then it must be willing to invoke the Phase One Agreement's enforcement mechanism," they wrote, "We fear that if this mechanism is not utilized, the value of any future trade agreement with China will be seriously compromised." Led by Ways and Means Republican Leader Kevin Brady (R-TX) and Ways and Means Subcommittee on Trade Republican Leader Adrian Smith (R-NE), the lawmakers lamented the lack of detailed analysis on China's performance, leaving "Congress with insufficient data to fulfill its Constitutional mandate to regulate commerce with China." The letter follows the release of 2021 trade data, confirming China failed to follow through with its Phase One commitments. The House republicans called on USTR to:

First, USTR should provide a detailed analysis of China's performance of its obligations under the Phase One Agreement.
Second, USTR should develop an action plan to address China's shortcomings under the Phase One Agreement.
Third, USTR should lead an ambitious, forward-looking strategy to advance free and fair trade and combat unfair industrial policies and trade practices in China and throughout the Indo-Pacific.

Furthermore, the lawmakers called on the Biden Administration to "set a clear, action-oriented plan to confront China's predatory trade practices and trade aggression throughout the world," noting that this month marks the second anniversary of the entry into force of Phase One Agreement.
COVID-19
U.S. trade deficit continues to widen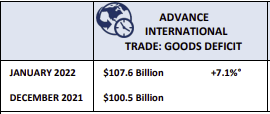 January's international trade deficit in goods increased to $107.6 billion or 7.1% in January from $100.5 billion in December as exports decreased and imports increased. The latest monthly trade data reveals import demand remains strong in early 2022 as the U.S. economy rebounds from the global pandemic. The Census Bureau reported that monthly exports of goods for January were valued at $154.8 billion, $2.8 billion less than December exports. Imports of goods for January were $262.5 billion, $4.4 billion more than December imports.
Goods Trade Barometer ticks downward
The WTO's Goods Trade Barometer, which currently sits at 98.7, has decreased modestly since its last reading of 99.5 in November 2021. The WTO theorizes the downward trend in the Goods Barometer was a result of supply chain issues posed by Omicron strand of COVID-19 health restrictions. "However, the index also shows signs of bottoming out, suggesting that merchandise trade may turn up soon even if it remains below trend in the near term," according to the WTO.

China trade deficit expanding
The full-year trade deficit with China grew 14.5% during 2021 to $355.3 billion, reversing the decline that the prior administration's trade policies (i.e., tariffs and purchase targets) aimed at reducing in the bilateral trade deficit. The 2021 deficit however, clocked in below the record trade deficit of $418.2 billion that the U.S. set with China in 2018.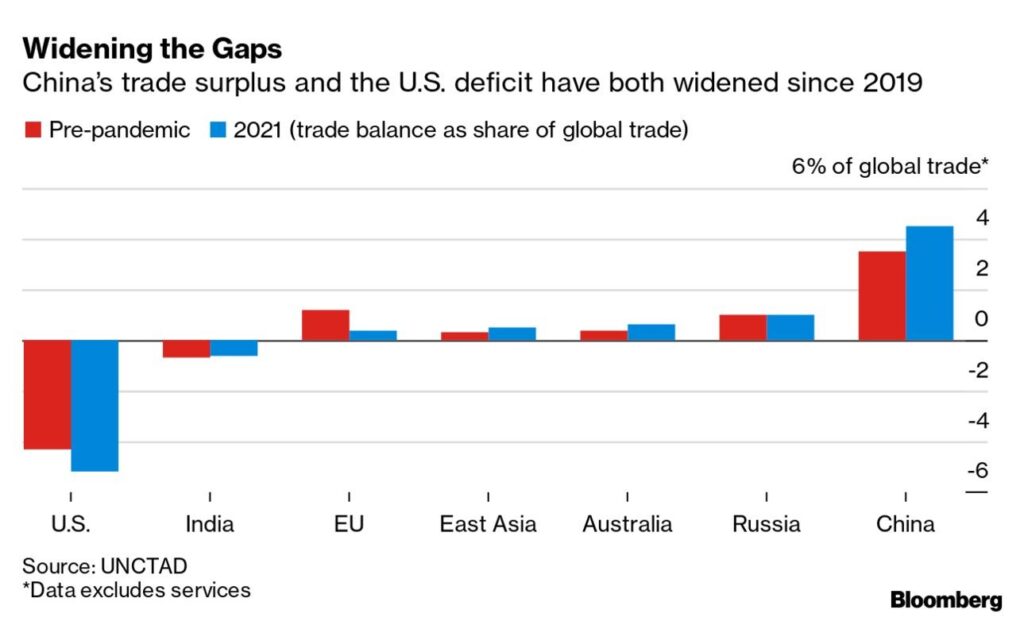 Agriculture Exports
Higher agriculture exports forecasted
USDA sharply raised its forecast for U.S. agriculture exports in fiscal 2022 to a new record of $183.5 billion. The latest forecast is up $8 billion from the November forecast and $11.3 billion over the record set in fiscal 2021. According to the USDA report, soybean exports are propelling the increase, accompanied by higher expectation for exports of livestock, poultry and dairy products, along with increases in horticultural products, which include tree nuts. The largest forecasted increases by destination are agriculture exports to Mexico, Canada, and Japan. Mexico is expected to overtake Canada as the second largest U.S. agricultural market with a projection of $27 billion, up $3.5 billion from November. Exports to Canada are forecast at $26 billion, $2 billion higher than the previous projection.
Supply Chains
White House issues report on agri-food supply chain
On the one-year anniversary of President Biden's Executive Order 14017 on America's Supply Chains, the White House released reports on "six industrial bases" and recommendations to enhance critical supply chain resiliency. The report on agri-food supply chains (USDA Agri-Food Supply Chain Assessment: Program and Policy Options for Strengthening Resilience), issued by USDA, outlines the risks and resilience of U.S. agri-food supply chains and identifies potential solutions to address vulnerabilities. According to USDA, the report outlines actions to:

Strengthen data and market intelligence to enhance USDA's understanding of supply chains and address disruptions early, reducing impacts on individuals and communities;
Diversify critical supply chain infrastructure, expand local and regional programs, and enable more and better markets for producers and consumers;
Support a level playing field to enable competition;
Improve working conditions and overcome critical labor shortages in farm and affiliated agri-food industries;
Help farmers adapt to climate change;
Strengthen response preparedness to animal and crop pest and disease threats;
Rebuild critical transportation infrastructure for moving bulk commodities and specialty products;
Boost agricultural exports, which stimulates local economic activity, helps maintain our competitive edge globally, and supports producers' bottom lines; and
Embed equity principles throughout our actions to ensure that our programs, services and decisions reflect the values of equity and inclusion.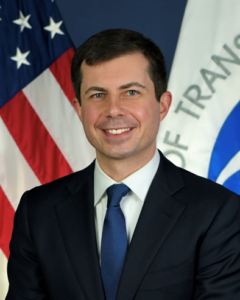 Department of Transportation announces $450 million in port funding
The Biden Administration announced it will delegate $450 million in grant funding to U.S. port infrastructure. "This funding is made possible by President Biden's Bipartisan Infrastructure Law and is nearly double last year's investment in PIDP for states and port authorities," according to a Department of Transportation (DOT) press release, which also states the investment is part of the Biden-Harris Action Plan for America's Ports and Waterways.

U.S. Transportation Secretary Pete Buttigieg espoused the funding decision and the Administration for its commitment to enhancing American supply chains. "President Biden is leading the largest ever federal investment in modernizing our country's ports, which will improve our supply chains and the lives of Americans who depend on them," said Secretary Buttigieg.

Prior to DOT's port funding announcement, the Biden Administration released a statement saying the government would partner with the Port of Oakland to set up a port "pop-up" site in an effort to reduce shipping congestion and facilitate the flow of agricultural commodities.
U.S. – Russia
House legislation to expel Russia from WTO
House Ways and Means trade subcommittee chairman Earl Blumenauer (D-OR) and Rep. Lloyd Doggett (D-TX) introduced legislation to end permanent normal trade relations (PNTR) with Russia and to begin the process of expelling Russia from the World Trade Organization (WTO). The U.S. must invoke "every tool at our disposal, short of armed conflict, to protect Ukraine's independence," Rep. Blumenauer said. "Putin's unprovoked and unprecedented actions warrant a proportional response that includes terminating Permanent Normal Trading Relations and denying it WTO membership." Mr. Blumenauer said he intends to use his position as chair of the trade subcommittee to move the legislation forward. The two lawmakers emphasized that Russia should not benefit from the global trading system while invading Ukraine.
Russia's attack on Ukraine stirs fear within the ag community
Agricultural products have not been included in the U.S.' sanctions against Russia for its invasion of Ukraine. Despite this fact, the recent conflict in Eastern Europe has dramatically affected international markets, causing worry among exporters and importers, especially within the wheat industry. Russia and Ukraine are two of the largest exporters of wheat and as such, "wheat futures prices at the Chicago Board of Trade, the global benchmark, surged 6 percent last week, to about $9.34 a bushel, the highest in nine years," according to Politico. Russia's invasion of Ukraine could have effects on other agriculture markets as well, but U.S. Agriculture Secretary Vilsack said, at this point, its "too early to tell," what impacts the conflict will have.
Section 232 Investigations
US – U.K. tariff talks continue
No significant update on U.S. and U.K. talks on resolving the Section 232 tariff disputes. Secretary of Commerce Raimondo, Ambassador Tai, and U.K. Secretary of State for International Trade Trevelyan have met virtually, discussing U.S. Section 232 tariffs on U.K. imports and U.K. retaliatory tariffs on U.S. exports to the U.K. "They agreed that, as the United States and the United Kingdom are close and long-standing partners, sharing similar national security interests as democratic market economies, they can partner to promote high standards, address shared concerns and hold countries that practice harmful market-distorting policies to account," according to a U.S.-U.K. joint statement on the issue.
Section 301 Investigations
Canada's DTS actionable under Section 301
USTR shared its concerns with the Canadian government regarding Canada's intent to implement a Digital Services Tax (DST) in 2024. USTR claims the tax would "single out American firms for taxation while effectively excluding national firms engaged in similar lines of business," which would be actionable under Section 301 of the Trade Act of 1974. If Canada follows through with a DST, Section 301 would allow the U.S. government to retaliate as it has done with similar DST cases in the past.

Canada's proposed legislation would "implement a three-percent DST on revenue from certain digital services. The tax would apply to businesses with gross revenues of at least EUR 750 million (at least USD 850 million) and at least CAD 20 million (more than USD 15 million) of certain in-scope Canadian revenues."
U.S. lawmakers hope to see Section 301 exclusions addressed in the anti-China bill
Representative Adrian Smith (R-NE), who sits on the House Ways & Means trade panel, told U.S. Inside Trade the American COMPETES Act is missing crucial elements that address U.S.-China trade inequities, including language on Section 301 exclusions. Representative Smith has advocated for the final version of congress' anti-China bill to include Section 301 provisions that are similar to those incorporated in USICA. "I think there's obviously a lot of bipartisan interest in this, and clearly the letters in both the House and Senate, I think, show the consensus that USTR's current process is not sufficient — and actually, I think, creates an arbitrary outcome by not developing a process for most Americans affected by tariffs to not even apply for an exclusion," said the congressman. Representative Smith went on to note, "There's bipartisan interest here. I think we can work through this, but again we need to get this right."
In a letter addressed to USTR Ambassador Tai, a group of 41 bipartisan senators wrote "to express [their] strong support for establishing a comprehensive exclusion process for U.S. manufacturers, producers, and importers to request relief from tariffs placed on products from China pursuant to Section 301 of the Trade Act of 1974." The senators go on to state their concern that the most recent modifications to the Section 301 exclusion process, announced in October of 2021, are too "narrow," highlighting "only one percent of imports under the original exclusion process are eligible for consideration." The bipartisan letter adds to the growing list of pleas made to USTR in hopes of expanding the exclusion process. Lawmakers who have signed onto these appeals "believe that restarting a full exclusion process can allow the United States to continue to maintain pressure on China, while providing relief to the economic pain facing businesses and workers across the country."
A report released last summer by the Government Accountability Office (GAO) said that from 2018 to 2020, U.S. stakeholders submitted about 53,000 exclusion requests to USTR for specific products covered by the tariffs. GAO found that USTR rejected 87 percent of the approximately 53,000 tariff exclusion requests it received when Trump was president.
Biden Transition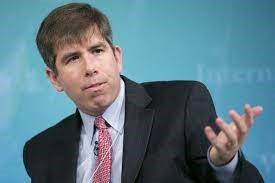 President Biden announced his selection of Jay Shambaugh as his nominee for Treasury Under Secretary for International Affairs. Mr. Shambaugh currently is a Professor of Economics and International Affairs at George Washington University, specializing in macroeconomics and international economics research. He served as a member of the White House Council of Economic Advisors from 2015 to 2017 during the Obama Administration. He also worked on the Biden transition team and is a senior nonresident fellow at the Brookings Institution.
Indo- Pacific Economic Framework
IPEF will address ag trade
Speaking at a USDA event, Ambassador Katherine Tai affirmed the Administration's intention to use the Indo-Pacific Economic Framework (IPEF) as a tool to enhance agricultural trade. According to Ambassador Tai, she and her colleagues are "looking to set standards that promote fair and open competition and with respects to our farmers, our ranchers, our agricultural stakeholders, looking for ways of engaging with our partners that are focused on inclusive growth…." Ambassador Tai also briefly touched on the contents of the IPEF, noting, the framework will "include commitments … to address some of the persistent challenges that we know we face, that our stakeholders face, in this region when it comes to accessing markets, in particular in terms of regulatory approaches and standards approaches."
Industry groups advocate for broad trade provisions
A broad cross-section of industry groups are urging the Biden administration to negotiate a wide-ranging deal that includes enforceable technology and agriculture standards and new market access opportunities. In a letter signed by the Chamber of Commerce, American Farm Bureau, Business Roundtable and National Association of Manufacturers, among others, the groups wrote, "A successful trade module of the IPEF should include commitments across the manufacturing, agriculture, and services sectors." "These should include trade facilitation, good regulatory practices, sanitary and phyto-sanitary rules, technical barriers to trade, intellectual property rights protection, and anti-corruption, among other state-of-the-art provisions from recent agreements," the letter continued. The groups said a "successful IPEF should broadly:

Include binding and enforceable legal commitments.
Create market access opportunities for U.S. businesses, farmers, and workers.
Set high standards in each module and ensure that participating countries agree to all commitments.
Secure commitments this year for each of the modules.
Include specific work plans to regularly add commitments and participating countries to each module, which would deepen and broaden the IPEF's benefits over time.
Establish an ongoing consultative mechanism for the private sector to share feedback on the priorities for each module and to maximize benefits and outcomes."

The groups' outlined IPEF outcomes extend beyond the Biden Administration's stated scope to date, as administration officials have maintained that the IPEF is "not a free trade deal" and "will not include new market access commitments." However, more details and specifics on the IPEF are expected from the administration soon.
U.S. – Africa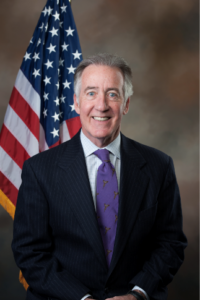 USITC to conduct AGOA investigation
Following House Ways and Means Committee Chairman Richard E. Neal's (D-MA) letter to the U.S. International Trade Commission (USITC) Chairman Jason E. Kearns, calling for the USITC to examine the African Growth and Opportunity Act (AGOA), the USITC announced it will conduct a fact-finding investigation on the legislation. AGOA, which has been part of the U.S.' attempt to boost trade with sub-Saharan Africa, is set to expire in 2025. The House Ways and Means committee's attention to AGOA, highlights congresses' interest in U.S.-Africa trade and the context under which lawmakers hope to pursue economic involvement with Africa.

In Representative Neal's original letter, he called for the USITC's report to "provide industry case studies to better understand the relative competitiveness of each sector and its impact on workers, economic development, and poverty reduction." The case studies will include investigations into the cotton, apparel, certain chemicals, and cocoa industries.

USITC's final report will be transmitted to USTR by March 17, 2023.
U.S. – EU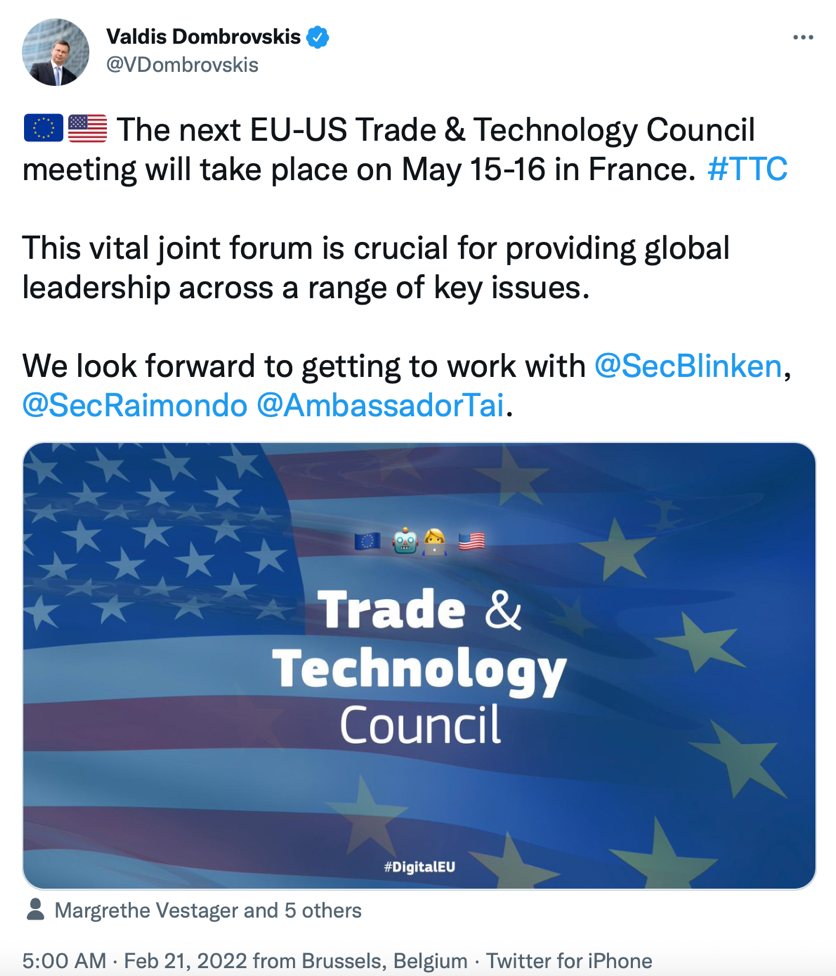 Next TTC meeting confirmed for May
The U.S. and EU will hold their next Trade and Technology Council (TTC) meeting on May 15-16 in France. Upon its creation, the Council laid out its primary objective: "to promote U.S. and EU competitiveness and prosperity and the spread of democratic, market-oriented values by increasing transatlantic trade and investment in products and services of emerging technology, strengthening our technological and industrial leadership, boosting innovation, and protecting and promoting critical and emerging technologies and infrastructure."

The TTC last met in September of 2021 in Pittsburgh, PA, where officials discussed investment screening, export controls, artificial intelligence, semiconductors, and global trade challenges, among other issues. During the TTC's next assembly, officials will revisit the council's 10 working groups that were established during the Council's last meeting.
Ambassador Tai meets with French officials
According to a USTR readout, Ambassador Katherine Tai travelled to Paris to discuss U.S.-France trade and economic cooperation. In conversation with France's Minister of Economy, Finance and Recovery Bruno Le Maire, Ambassador Tai "commended France for its leadership on transatlantic issues during its current Presidency of the Council of the European Union." The two officials spent time discussing the threat of non-market economic practices and supply chain issues, noting the U.S.-EU Trade and Technology Council as a medium to address such concerns.
During her time in France, the U.S. Trade Representative also conversed with France Minister-Delegate for Foreign Trade and Economic Attractiveness Franck Riester. Together Ambassador Tai and Minister-Delegate Riester deliberated methods for addressing pressing U.S.-EU agenda matters such as "challenges from non-market economies, the large civil aircraft framework and the global arrangement on steel and aluminum trade." Finishing up their discussion, Ambassador Tai and Minister-Delegate Riester highlighted their shared sense of resolve for pushing WTO reform, including "reaching a meaningful conclusion of the fisheries subsidies negotiations."
Ambassador Tai meets with German officials
U.S. – U.K. Trade
U.S.-U.K. trade talks still "on pause"
During a National Asian Pacific American Bar Association (NAPABA) event, Ambassador Katherine Tai stated the U.S.-U.K. and U.S.-Kenya trade talks, that commenced under the Trump Administration, are still "on pause."

Ambassador Tai did, however, affirm USTR is very keen on "enhancing our trade relationships and our collaboration with our partners in the U.K. and Kenya." How the U.S. plans on going about trade-related conversations with the U.K. and Kenya remains unclear.

Ambassador Tai went on to say, "in terms of what form [British and Kenyan collaboration] will take and whether it conforms to exercises and vehicles that are familiar to us, I'm going to leave that open, but our focus really is on how to be most effective and being good partners in advancing ourselves into a really strong economic recovery by working together."

Meanwhile U.K. officials are posturing for trade negotiations with the Biden Administration to commence after the U.S. midterm elections later this year. "We hope that may be after the midterms, when they want to pick up and talk about those federal-level bits of an FTA, we stand ready to carry on those conversations," Secretary of State for International Trade Anne-Marie Trevelyan said recently. In the interim, U.K. officials are focusing on state-level negotiations, laying the regulatory groundwork for a future bilateral trade agreement. The U.K. has already secured new trade agreements with New Zealand and Australia, launched negotiations with India, and requested entry into the CPTPP.
WTO
MC12 scheduled for week of June 13
Last week WTO members agreed to reconvene the 12th ministerial the week of June 13th. At a meeting of the General Council, countries settled on the later date, over an earlier proposal for June 2-4. More details on the agenda and structure are expected soon.
Much uncertainty about the productiveness of the MC12 remains among WTO members as a number of contentious issues have yet to be resolved and less than 4 months until the ministerial remain. Conversations on pandemic response measures, WTO reform, and the TRIPS waiver continue to spark debate.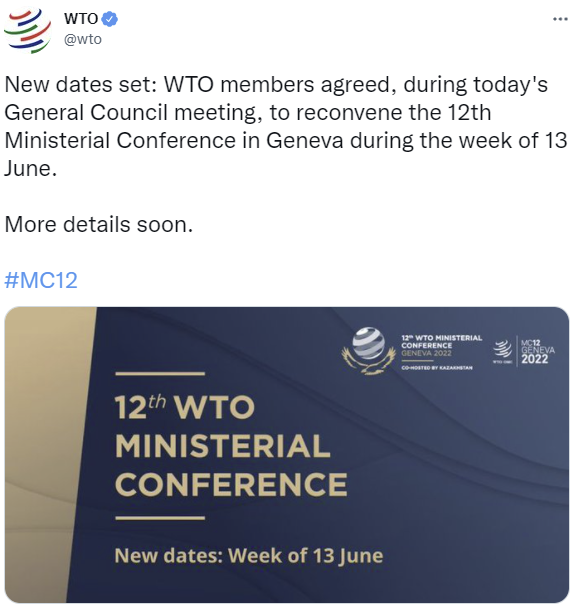 WTO authorizes Turkmenistan accession talks
Turkmenistan has been approved for WTO accession negotiations. The country joins 23 other nations and territories that are currently undergoing the WTO accession process under which all WTO member countries must agree on the terms of each proposed member's accession. Director-General Ngozi Okonjo-Iweala applauded Turkmenistan for its work toward WTO accession, noting, "Turkmenistan's request to start accession negotiations is the result of years of intensive domestic work, complemented by assistance from partners and the WTO Secretariat to understand the benefits of the accession process and eventually WTO membership." Turkmenistan has been a WTO observer since July 2020.
Countries remain divided on Fisheries talks priorities
A group of developing nations are urging special and differential treatment (S&DT) take priority in Doha fisheries subsidies negotiations. The group asked the fisheries negotiation chair, Ambassador Santiago Wills (Colombia) to address S&DT territoriality before non-fuel specific subsidies, among other fisheries issues. In contrast, the EU, Canada and the U.K. insist S&DT must wait to be resolved by trade ministers at the WTO's 12th ministerial conference. Ambassador Wills reportedly planned to proceed with small group consultations on issues concerning territoriality and fuel-specific subsidies to be followed later by other issues like forced labor and S&DT.