TRADE UPDATE
Food & Agriculture
June 7, 2022
By Michael Anderson, Vice President of Trade and Industry Affairs
HIGHLIGHTS
"We are ready to progress negotiations on [a free trade agreement] when the U.S. is ready to do so, but we weren't going to sit still. That's what this trade and economic agreement – this [memorandum of understanding] – is about because it sets out those areas where we have shared ambition between the United Kingdom and the state of Indiana."

— Ranil Jayawardena, the United Kingdom's Minister for International Trade
USMCA
Mexico agrees to review labor abuses at auto parts plant
Mexico's Economy of Ministry agreed to investigate the alleged labor abuses at a Panasonic auto parts plant in Reynosa, Tamaulipas per the Office of the U.S. Trade Representative's (USTR) request through the USMCA rapid-response mechanism. The statement says the government would "review the case to determine whether or not there is a denial of labor rights in accordance with the provisions" of USMCA. Now, Mexico has 45 days to report the findings of its review to the U.S. The alleged labor violations come from a petition from the Mexican union SNITIS stating that the facility denied workers the right to free association and collective bargaining.

If Mexico finds that there was a denial of rights, the two parties would enter talks on remediation. If not, the U.S. could request a USMCA panel to review the case.
U.S. again challenges Canadian dairy TRQ
The U.S. has for a second time employed the USMCA's dispute settlement mechanism to request consultations with Canada over what USTR is calling new restrictions on U.S. dairy products. In the request USTR said it's "challenging Canada's dairy tariff-rate quota (TRQ) allocation measures, which deny allocation access to eligible applicants, including retailers, food service operators, and other types of importers, and imposes new conditions on the allocation and use of the TRQs." The U.S. is also "challenging Canada's failure to fully allocate its annual dairy TRQs; Canada is instead parceling out a few months' quota at a time," USTR said. "Through these measures, Canada undermines the market access that it agreed to provide in the USMCA." The action follows an initial consultation request earlier in 2022 under USMCA's dispute settlement mechanism regarding Canada's implementation of USMCA's dairy provisions.

Ambassador Katherine Tai said in a statement, "We communicated clearly to Canada that its new policies are not consistent with the USMCA and prevent U.S. workers, producers, farmers, and exporters from getting the full benefit of the market access that Canada committed to under the USMCA." Tai continued, "We will continue to work with [the Agriculture Department] to ensure that our dairy industry can bring a wide range of high-quality American products to Canadian customers."

Tai expressed disappointment that Canada has decided to "expand" its dairy TRQ restrictions despite an earlier ruling that the country's policies violated USMCA. The Biden administration and the U.S. dairy industry rejected Canada's earlier plan to change its system to comply with USMCA, but Canada has proceeded with implementation.

USDA Secretary Tom Vilsack said, "Canada has failed to honor and implement its USMCA commitments by removing the trade restrictions that disadvantage and deter U.S. dairy producers and exporters from enjoying real and meaningful access to the Canadian market. Obtaining that access remains a top priority for the Administration and we are considering all options available to achieve this objective."
On May 16th Canada published a notice that it had removed allocation holder pools under all dairy TRQs, and that selected distributors are eligible under the Industrial Cheeses TRQ. An action that the Biden administration and dairy stakeholders said was non-compliant with USMCA. In January, a USMCA dispute ruled in favor of the U.S. complaint that Canada is breaching its USMCA commitments by reserving most of the in-quota quantity TRQ in its dairy for the exclusive use of Canadian processors.
U.S. – China
China to respond to the U.S.' forced labor ban
In response to the Uyghur Forced Labor Prevention Act (UFLPA), the Chinese Foreign Ministry spokesperson Zhao Lijan signaled that if the act was implemented, it "will seriously disrupt normal cooperation between Chinese and American businesses, undermine the stability of global supply chains, and eventually hurt the U.S.' own interests." He also stated that "if the U.S. is bent on doing so, China will take forceful measures to firmly defend its own interests and dignity." The UFLPA, signed into law last December, directs the U.S. Customs and Border Protection (CBP) to presume that all goods from the Xinjing region in China are made with forced labor and, accordingly, are banned from importation under Section 307 of the Tariff Act of 1930. The new enforcement rules are set to go into effect on June 21st.
USDA updates guidance on Decree 248
Further guidance and instructions on facility registration regarding China's Decree 248 were published in a recent USDA report. The report outlines the two different methods for facility registration methods under Decree 248, answers to frequently asked questions (FAQ), followed by links to previous FAS China reports on the decree, and other useful information. USDA noted the guidance was intended to clarify the significant differences between what the regulation states and how it is being implemented.

China announced the new food import regulations late last year with an implementation date of January 1, 2022. The regulation states that overseas food manufacturing, processing, and storage facilities are required to register with the General Administration of Customs of China (GACC) to export food products to China.
COVID-19
Global food prices remain elevated
The Food and Agriculture Organization's (FAO) Food Price Index averaged 157.4 points in May 2022, down 0.9 points (0.6 percent) from April, though still 29.2 points (22.8 percent) above its value in the corresponding month last year. The modest decline was principally due to declines in the vegetable oil and dairy price indices, and the sugar price index also fell to a lesser extent. Alternatively, cereal and meat price indices increased, according to the FAO. Other highlights from the report include:

The Meat Price Index averaged 122.0 points in May, up 0.6 points (0.5 percent) from April, setting a new all-time high, driven by a steep rise in world poultry meat prices, more than offsetting declines in pig and ovine meat values.

The Vegetable Oil Price Index averaged 229.3 points in May, down 8.3 points (3.5 percent) month-on-month yet remaining markedly above its year-earlier level. The monthly decline mainly reflects lower prices across palm, sunflower, soy, and rapeseed oils.
The Dairy Price Index averaged 141.6 points in May, down 5.1 points (3.5 percent) from April, marking the first decline after eight consecutive monthly increases, but still 20.5 points (16.9 percent) higher than its level in May of last year.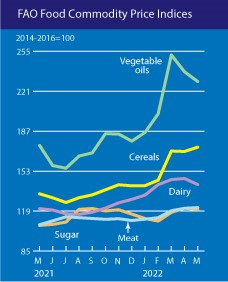 Supply Chains
Continued supply chain disruptions expected
Supply chains disruptions are expected to extend into 2023 according to a report released by the Dallas Federal Reserve. The manufacturing report indicates that nearly one-third of surveyed manufacturers are experiencing procurement-related disruptions and expect supply disruptions will last a year or more before rebalancing. That is up from 14.7% a year ago and 25.8% just three months ago. The vast majority of respondents (87%) indicated they are passing on at least some or all of the higher costs of supply disruptions to their customers.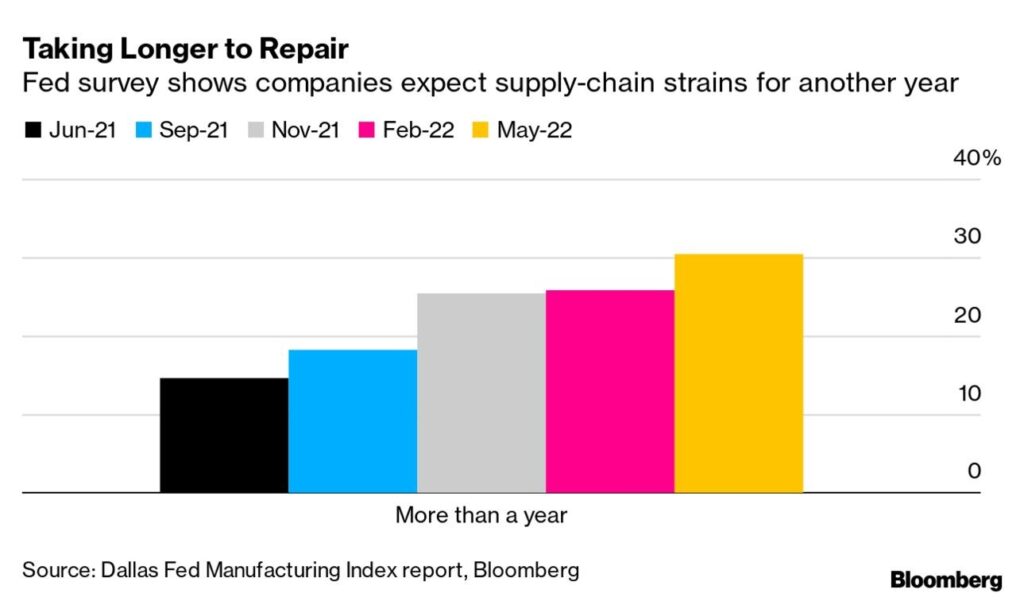 Food Security
New trade restrictions continue though pace slows
Countries continue to impose temporary trade measures as part of economic sanctions and counter-sanctions in response to the military conflict in Ukraine. The economic upheavals of Russia's invasion of Ukraine have led a number of countries to impose export restrictions on vital food and agriculture products, according to the latest analysis by the United Nations' International Trade Center (ITC).

According to the ITC, "Between April 2022 and May 2022, the number of temporary trade measures related to the war in Ukraine increased by 8 measures. The number of measures on exports increased by 2 measures and the number of measures on imports increased by 6 measures. By the end of May 2022, there were 112 active temporary trade measures related to the war in Ukraine. Of this total, 58% applied to exports and 42% applied to imports."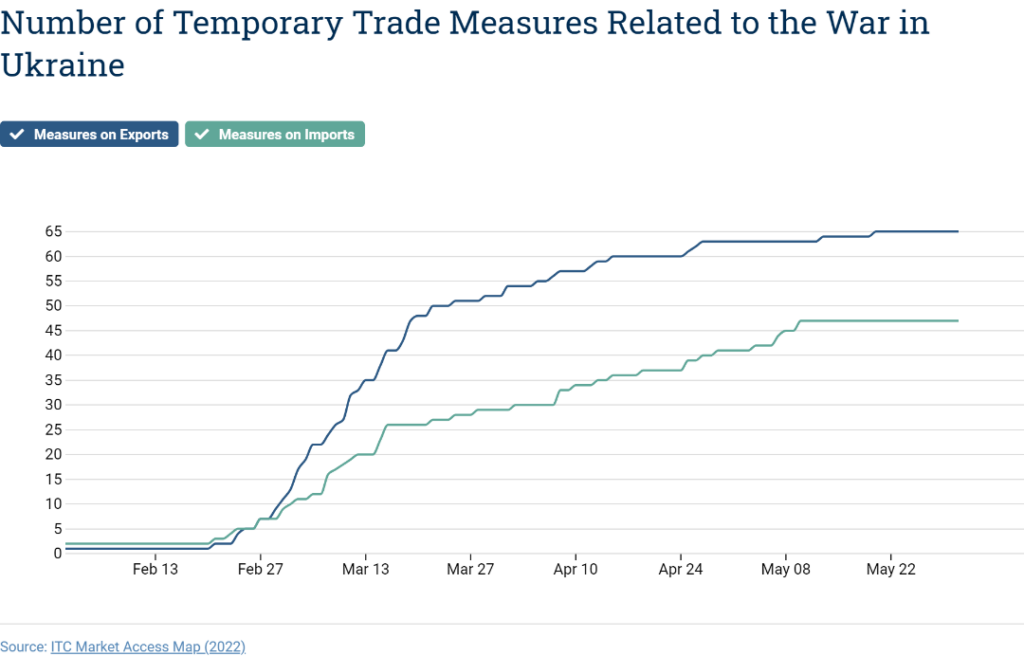 Malaysia imposes chicken export restrictions
Malaysia joins the string of countries imposing food and agriculture export restrictions, restricting live chicken exports, as countries grapple with global inflation and supply chain disruptions. The move aims to ensure adequate supplies for the Malaysian domestic market. Malaysia typically exports up to 3.6 million chickens a month. The announcement rippled through nearby Singapore which imports a third of its poultry from Malaysia, as consumer and food retailers rushed to stock up on fresh chicken. Some stakeholders in Singapore warned that prices for chilled chicken could rise by up to 30% under the Malaysian export ban.

Malaysia's move follows sugar and wheat export restrictions by India in recent weeks. An Indian official cited concerns over food inflation in implementing the trade restrictions.
Summit of the Americas
Biden to unveil new economic agenda
With the Summit of the Americas to take place this week in Los Angeles, Biden will seek regional consensus at the gathering on a new economic agenda with Latin America. One of his goals for the summit is to help the region recover economically from the pandemic. One official stated that "we're going to use the summit to align regional leaders, the private sector, and civil society behind a new and ambitious economic agenda for Latin America and the Caribbean that I think looks to build upon the existing free trade agreements that we have in the Western Hemisphere." This approach will include taking advantage of trade deals already in place, such as USMCA and bilateral FTAs with different Latin American countries. Migration will be Biden's main priority for the summit.

When asked if the summit would produce a proposal for a regionwide trade imitative similar to the Indo-Pacific Economic Framework (IPEF), the official said, "I wouldn't make any comparisons."
Indo- Pacific Economic Framework
IPEF not expected to follow traditional trade negotiations
Members of the framework will begin "scoping out each pillar" in the coming weeks. USTR will lead the pillar on trade while the Department of Commerce (DOC) will lead the remaining three pillars. It is stated that the first step in this process is to determine which members are in each pillar and what the pillars will entail. Commerce Secretary Gina Raimondo told reporters that "later this summer, in maybe a month or so, I'll have a sense of which countries are going to sign on to which pillar." According to sources, the administration could be announcing IPEF outcomes around the same time the U.S. hosts the 2023 Asia-Pacific Economic Cooperation leaders' summit as the administration would likely aim to have IPEF deliverables by this time.
Enhance Philippines' role in IPEF
The Center for a New American Security (CNAS) released a report urging the U.S. to pursue a major role for the Philippines in the Indo-Pacific Economic Framework to strengthen ties between the two countries. The report, "Revitalizing the U.S.-Philippines Alliance to Address Strategic Competition in the Indo-Pacific," was authored by a spectrum of more than 20 policy analysts and includes recommendations on forging the economic relationship with the Philippines after the election of a new president, Ferdinand Marcos.

"As the United States seeks to compete effectively with China in the Indo-Pacific in a range of areas spanning the military, economic, technological, and diplomatic domains, solidifying its alliance with the Philippines should be a major line of effort in its overall strategy," CNAS wrote.
One area of opportunity is working toward a digital standards agreement, as the Philippines concurs with U.S.-favored digital standards, which help underpin its business process outsourcing sector. "Such an agreement could further reinforce and expand U.S.-Philippines cooperation in this sector," the authors contend.
U.S. – Taiwan
U.S and Taiwan to start a trade pact
New talks between the two nations opened regarding facilitating trade but without reducing tariffs. The U.S.-Taiwan Initiative on 21st-Century Trade aims to "develop an ambitious roadmap for negotiations" in areas such as trade facilitation, regulatory practices, agriculture, anti-corruption, and supporting small businesses. Taiwan was left out of IPEF during its launch for fears of China's opposition, according to most observers. The interactions are all unofficial and the initiative does not require approval from Congress because it does not address market-access issues (i.e., tariff barriers). According to senior officials, the trade initiative would work cooperatively with three of the IPEF pillars. "In the days and weeks ahead, we will move quickly to develop a roadmap for possible negotiations, followed by in-person meetings in Washington, DC, next month," said a senior official.

This initiative is expected to be "more robust and broader" than the U.S.-Taiwan Trade and Investment Framework Agreement (TIFA), referencing the fact that the first TIFA talks were held last year since 2016.

USTR said the U.S. and Taiwan "intend to explore provisions to facilitate agricultural trade through science and risk-based decision making and through the adoption of sound, transparent regulatory practices." Taiwan became the sixth largest foreign market for U.S. agriculture commodities despite the high average Taiwanese tariff of 15.12% for these commodities, according to the USDA's Foreign Agriculture Service.

In a statement by the U.S.-Taiwan Business Council President Rupert Hammond-Chambers, he said "this should be in concert with IPEF, if it's not, then we should all be concerned about whether this is a press release or substantive."
Liu Pengyu, the spokesperson for the Chinese Embassy in the U.S., said that Beijing "opposes all forms of official interactions in any name or form" between Taiwan and other countries.
U.S. – New Zealand
U.S. – New Zealand restart TIFA talks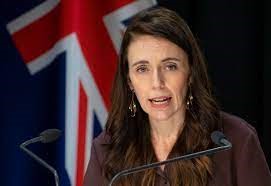 On the heels of President Biden's announcement of IPEF participating countries, New Zealand confirmed the restart of the annual Trade and Investment Framework Agreement (TIFA) talks with the U.S. "Bilaterally, we intend to work together to promote growth in both our economies for the benefit of all our citizens, and to explore how we can expand bilateral trade and investment in order to strengthen the security of our supply chains and economic resilience," both countries said in a joint statement. "To that end, the United States and New Zealand will resume annual Trade and Investment Framework Agreement (TIFA) discussions." The announcement followed a meeting between President Biden and New Zealand Prime Minister Jacinda Ardern involving the launch of the Indo-Pacific Economic Framework. New Zealand is one of the original twelve countries engaged in IPEF. The U.S. and New Zealand last held TIFA talks in 2019.
Ukraine
U.S. formally lifts Section 232 tariffs on Ukraine
The White House released a proclamation making the suspension of Section 232 steel tariffs on Ukraine official. The import of steel articles and derivative steel articles from Ukraine are suspended for one year, according the to the President's proclamation. Earlier in May, Commerce Secretary Gina Raimondo said the U.S. would temporarily suspend the tariffs on Ukrainian steel to aid the country grappling with Russia's military invasion.

"Steelworkers are among the world's most resilient—whether they live in Youngstown or Mariupol. We can't just admire the fortitude and spirit of the Ukrainian people—we need to have their backs and support one of the most important industries to Ukraine's economic well-being. For steel mills to continue as an economic lifeline for the people of Ukraine, they must be able to export their steel. Today's announcement is a signal to the Ukrainian people that we are committed to helping them thrive in the face of Putin's aggression, and that their work will create a stronger Ukraine, both today and in the future," Raimondo said.
Russia to allow export of food from Ukraine if sanctions lifted
Russia stated on Wednesday that it was willing to open humanitarian corridors in the Black Sea for Ukrainian ships carrying grain but that the "removal of sanctions" on Russian exports and financial restrictions must be lifted first. Ukraine's Black Sea ports have been blocked since Russia launched its war in Ukraine in February. Due to soaring food prices tied to the war in Ukraine, European countries have called on Russia to "end the blockade of Ukrainian Black Sea ports and to allow for food exports" in the draft conclusions for the upcoming European Council summit.
Section 301 Tariffs
Opposing interests in section 301 tariff removals
The Biden administration faces opposition to section 301 tariff removals by several Senators. In contrast, a coalition of food and agriculture groups are urging the removal of the tariffs. The Biden administration has publicly signaled a desire to lift some of the tariffs.

In a letter to President Biden, a bipartisan group of senators expressed opposition to removal of Section 301 tariffs on goods from China and that the enforcement of the phase-one deal with Beijing should come first. The letter states that "rolling back tariffs on China would undermine the U.S. position in negotiations, expose many U.S. companies and workers to a sudden flood of imports, and signal to China that waiting out the U.S. is preferable to changing their non-market behavior or complying with the Phase One Agreement." The senators wrote that it would be "counterproductive to lift or erode the Section 301 tariffs, especially in the hopes that China will somehow become more cooperative on other issues."
In contrast, a coalition of agricultural groups wrote a letter to Ambassador Tai to "suspend, reduce, or eliminate all remaining Section 232 and Section 301 tariffs in return for commitments from other countries to suspend commensurate retaliatory tariffs that have adversely affected our industry and America's farm families." The letter states that eliminating or reducing Section 232 and Section 301 tariffs would increase market access for U.S. crops as well as decrease the costs of fertilizer, agricultural chemicals, and other products. The businesses in the industry have been affected by multiple obstacles including the lingering effects of the pandemic, supply chain issues, and inflation related to the Russian invasion of Ukraine.
Section 232 Tariffs
Section 232 tariffs to be lifted from Ukrainian steel
As noted earlier, the U.S. will temporarily suspend 232 tariffs on Ukrainian steel. The tariffs are to be lifted for one year, according to a Department of Commerce press release. Steel is a major industry in Ukraine, "employing 1 in 13 Ukrainians with good paying jobs." The announcement follows a substantial push from politicians and industry groups, urging the Biden Administration to show American support for Ukraine through tariff reductions.
U.S. – U.K.
U.S. agriculture export implications as negotiations for a U.K.-Mexico FTA open
Hoping to replace the existing post-Brexit 'rollover' trade agreement that was inherited from the EU, the U.K. and Mexico have launched negotiations on a new U.K.-Mexico Free Trade Agreement (FTA). U.K. negotiators expect enhanced tariff-free access to the Mexican agri-food market. The President of the National Farmers Union, an apolitical lobbying organization for Agriculture in England and Wales, states that "while our existing agri-food trade with Mexico is modest, there are significant opportunities for British farmers to export more quality produce." Mexico is currently the biggest market for U.S. agricultural exports, which may be affected as U.K. negotiators seek to secure enhanced access for British dairy products and pork on the Mexican market. Currently, there are restrictions on exports of British beef, lamb, and certain cuts of pork, which will be addressed in the negotiations in order to increase exports in the new FTA.

The U.K. is simultaneously in negotiations to join the Comprehensive and Progressive Agreement for Trans-Pacific Partnership (CPTPP). If the U.K. joins this agreement, negotiators see 99.9% of U.K. exports eligible for tariff-free trade within this bloc, for which Mexico is also a member.
U.K. forging trade deals with states, Indiana first
With the Biden administration pausing on free trade agreement (FTA) talks, the U.K. is pursuing trade and economic deals with some U.S. states. The U.K. and Indiana announced signing a "trade and economic development Memorandum of Understanding," according to the U.K. Department of International Trade (DIT). The MOU is aimed at deepening economic ties between the two countries and removing trade and investment barriers for businesses, said U.K. Minister for International Trade, Ranil Jayawardena, according to Inside U.S. Trade. Jayawardena said the U.K. was taking a "twin-track approach" on U.S. trade talks, prioritizing state-level arrangements while a more comprehensive FTA is on hold. Jayawardena emphasized the agreement will "really help increase that bilateral trade even further, particularly by seeking to bulldoze some of those market access barriers that get in the way." Those barriers "are controlled, quite a lot of the time, by state governments in the American context and, of course, by the Department of International Trade in the UK."
U.S. – EU
U.S. and EU intend to coordinate action against China
As reported earlier, the U.S. and EU are looking for ways to coordinate trade policy tools against China's non-market practices. Dan Mullaney, the assistant USTR representative for Europe and the Middle East, stated that Section 301 of the 1974 Trade Act is one tool to possibly be used on the U.S. side, but it was unclear if the EU had similar legislation for a coordinated tariff action to occur. Mullaney says of coordinated action that "It's easier to be supportive of European use of some of their tools and vice versa, if you have some level of confidence that you are not going to be hurt by the tool yourself," addressing concerns from U.S. business groups of negative collateral effect on tariff action.
WTO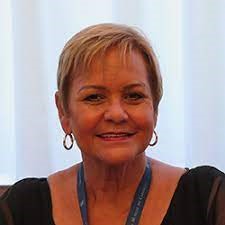 Non-binding agriculture drafts emerge
Focused on delivering an outcome on agriculture at the WTO's 12th Ministerial Conference (MC12), members are considering three draft documents focused on agricultural reform, food security, and the UN's World Food Program (WFP). The three texts were introduced by Costa Rican Ambassador to the WTO Gloria Abraham Peralta as a result of informal talks with a small group of members. Countries like the U.S., EU, China, Japan, Korea, Nigeria, Turkey, and Egypt showed support for the drafts. Countries like Ukraine, Thailand, Paraguay, India, and Indonesia, as well as the African Group do not feel that their concerns were addressed.

Agricultural reform: The first draft has outlined broad objectives for the topics under agriculture negotiations with a commitment to achieve some of the outcomes listed by the next Ministerial Conference. The topics are domestic support, market access, public stockholding, and the special safeguard mechanism. It highlights that trade, along with domestic production, contributes to improving global food security.

Food security: The second draft is designed to keep agricultural trade flowing, urging countries to refrain from imposing export restrictions on agricultural products.

WFP exemption: The third text calls on countries to exempt the UN's humanitarian food program from trade restrictions. To accommodate members that have reservations about this draft, a sentence has been added that ensures the country from which WFP is purchasing from can protect its own food security.
Impasse on TRIPS waiver
Discussions on the TRIPS COVID-19 document issued by WTO Director-General Ngozi Okonjo-Iweala is mired in debate on language revisions sought by developing countries and concerns with reciprocity in the deliberations. Several developing countries expressed concern with the chair's refusal to include their suggestions into the negotiating text, according to reports. TRIPS Council Chair Ambassador Lansana Gberie of Sierra Leone last week acknowledged that differences persist in text-based negotiations on the TRIPS COVID-19 draft text but asked members to make an additional effort to bring a fresh approach that contributes to overcoming differences.

Last month WTO Director-General Okonjo-Iweala released the TRIPS waiver compromise regarding COVID-19 vaccine IP protections agreed upon by the Quad (the EU, India, South Africa, and the U.S.). A WTO news item on the release notes, "In their discussions, the Quad adopted a problem-solving approach aimed at identifying practical ways of clarifying, streamlining and simplifying how governments can override patent rights, under certain conditions, to enable diversification of production of COVID-19 vaccines." The text allows eligible members to grant usage of patented COVID-19 vaccine IP without the consent of the patent holder.
Deal to be reached for fishing subsidy negotiations
For two decades, the WTO has been attempting to reach a deal with the global community that would curb billions of dollars of subsidies that encourage overfishing and threaten this key food supply in the long-term. The deal is hoping to be secured by MC12. Santiago Wills, Colombian Ambassador to the WTO and chair of the negotiations, told reporters, "I have heard some members say it is now or never for a fish agreement and I tend to agree, so we need to do everything we can to ensure that it is now." The biggest divergences remain on artisanal fishing, where some members wanted 12 nautical miles to be the limit for subsidies for small-scale fishers while others, specifically India, preferred 200 nautical miles and how long members would have to eliminate harmful subsidies, with the broad consensus being between 5 to 7 years, but India pushing for a 25-year transition period. The U.S. also recently demanded that the final agreement acknowledge forced labor in the industry, which has identified China as "a significant offender, with numerous reports throughout the world." Members widely agree on prohibiting three categories of harmful subsidies in fishing:

Subsidies that contribute to illegal, unreported, and unregulated fishing;

Subsidies for the fishing of an overfished stock; and

Subsidies that contribute to overcapacity or overfishing, such as for upgrading vessels, reducing cost of fuel, reducing labor costs, and propping up prices paid for fish.
Coalition ask Biden to resist India's WTO ag demands
A broad cross-section of over 20 food and agriculture associations are urging President Biden to block India's ambitions to modify the existing WTO agriculture stock holding policy at the upcoming MC12. In a letter, the groups expressed concern that India and other developing countries aim to take advantage of global food security concerns created by the war in Ukraine to push through changes at the WTO that would permanently allow them to push surplus farm production on world markets at below-market prices.

"We urge you to oppose these proposed changes to the WTO Agreement on Agriculture." "Instead, we encourage countries to donate their excess stocks to the World Food Program, which has exemplary distribution and humanitarian programs to feed hungry people around the world," the letter said.

WTO rules limit the monetary support that countries can apply to trade-distorting agricultural programs. India has long pushed for an exception that would exclude financial support to stockpile wheat, rice and other commodities for domestic feeding programs from the current restrictions, frequently referred to as public stock holding.
Difficulty with WTO reform
With the start of MC12 next week, negotiations on WTO reform are stalled. Unlike the e-commerce moratorium, the debate is about what reform should look like, not whether it will happen. Broad consensus on the reform includes emphasizing that reform for the WTO is needed and that the process is open, transparent, and inclusive of the interests of all members.
During a recent informal General Council meeting, there were two significant different positions on outlining the process of reform. Members like the U.S., the EU, Canada, and other developed countries, although also including some developing nations, support a streamlined language on reform that does not "prejudge" the outcome of reform discussions. The other position is composed of India, South Africa, and their allies where they argue in favor of a prescriptive text that highlights development, "policy space," and existing rights in the language.
India states that it wants the language to be "consistent with the principles and objectives of the multilateral trading system as set out in the Marrakesh Agreement Establishing the World Trade Organization" which founded the organization in 1995. The U.S. and others state that this framework would prioritize specific issues which would narrow the options and scope for reform.
In contrast, the WTO dispute settlement language is largely agreed to in the outcome document. The document reads, "We acknowledge the challenges and concerns with respect to the dispute settlement system including those related to the Appellate Body, recognize the importance and urgency of addressing those challenges and concerns, and commit to conduct discussions with the view to having a fully and well-functioning dispute settlement system accessible to all Members by MC13."
WTO e-commerce moratorium debate continues
Consensus on extending the e-commerce moratorium has not yet been reached with the two positions being mostly composed on the same two groups on the reform debate. The U.S. and other Western countries want a permanent extension on the moratorium while India and South Africa oppose extending the moratorium citing concerns of loss of revenue and that now would not be an ideal time to renew the moratorium due to uncertainty about what constitutes e-commerce transmission. These countries also call for a "revitalized" multilateral work program on e-commerce. The e-commerce tax moratorium has been in place since 1998 and has been extended at every ministerial conference to date. Under the moratorium WTO members may not impose customs duties on electronic transmissions.