Our monthly newsletter highlights the work CRA and our members are doing to innovate, invest, and grow in the communities where we live and work. We invite you to explore our newsletter and learn more about CRA and our members.
CRA NEWS
---
CRA APPLAUDS THE INTRODUCTION OF THE BIOMANUFACTURING AND JOBS ACT IN THE HOUSE AND SENATE
Statements from CRA President and CEO John Bode thanked Senators Klobuchar, Stabenow, Ernst, and Ricketts; and Representatives Alford and Craig for prioritizing the enhancement of USDA's BioPreferred program. Learn more about the bill on Senator Klobuchar's website.
CRA IS SPONSORING THE NORTH CAPITAL FORUM
Interested in the relationships and dynamics impacting the North American region? CRA is proud to sponsor the 2023 North Capital Forum, a three-day gathering hosted by the U.S.-Mexico Foundation that will gather panels and discussions on the region's most pressing issues. During the event, CRA President and CEO John Bode will discuss innovation in agriculture and North American trade. Learn more about #NCF23 on the event webpage.
CRA'S KENT ROBERSON AND JAMAICA GAYLE PROMOTED
CRA is proud to announce the promotions of Jamaica Gayle to Director of Sustainability & Environmental Affairs, and Kent Roberson to Director of Government Relations. We look forward to seeing their continued growth in their new positions.
JOIN OUR TEAM OF LEADERS! CRA IS LOOKING FOR A MANAGER OF SUSTAINABILITY & WORKPLACE SAFETY
Know a talented sustainability specialist in search of a new role? CRA is hiring a Manager of Sustainability and Workplace Safety who will support the development and execution of policy regarding sustainability, environmental affairs, and workplace safety issues for CRA and the Plant Based Products Council. Visit CRA's careers page to learn more.
CRA RELEASED ITS LATEST LIFE CYCLE ANALYSIS
CRA's latest life cycle analysis (LCA) highlights the corn refining industry's achievement of environmental and sustainability goals. The LCA evaluates the environmental impacts of certain products derived from corn refining across their lifetime, from the beginning stages of agricultural production to the final stages of facility operations. To learn more, visit CRA's LCA website page and read our press release.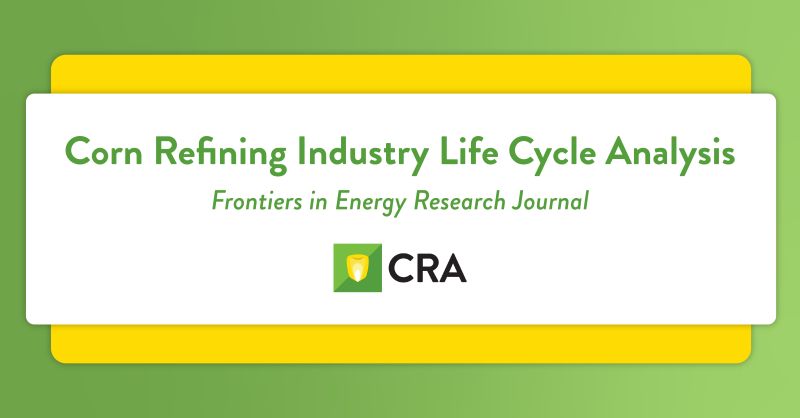 MEMBER NEWS
---
Did you know?
---