TRADE UPDATE
Food & Agriculture
August 15, 2023
By Michael Anderson, Anderson Global Trade, LLC
HIGHLIGHTS
"In the Canada-U.S. relationship, there are always trade tensions. It's just inevitable because we do so much business."

–Canada's Deputy Prime Minister, Chrystia Freeland, at the Aspen Security Forum
U.S. – Mexico
Commerce considering putting duties on Mexican tomatoes
The Department of Commerce has opened an investigation at the request of Florida tomato growers which could lead to anti-dumping duties being imposed on Mexican-grown tomatoes, according to Politico. This would be done through the termination of a 2019

Tomato Suspension Agreement

.

Recall that in June the Florida tomato growers filed a request with the Department of Commerce to terminate the 2019 Tomato Suspension Agreement with Mexico. The 2019 agreement suspended anti-dumping duty investigations on fresh Mexican tomatoes. Florida tomato farmers have been at odds with imports of Mexican tomatoes since the signing of NAFTA in 1994. Over the past 27 years, five suspension agreements have been made.
Michael Schadler, Executive Vice President of the Florida Tomato Exchange,

stated

that "Despite the good faith efforts of the Commerce Department over the last four years, the 2019 Suspension Agreement has not been able to close the loopholes that have always been a problem. It's become clear that these agreements are simply not enforceable, at least when it comes to the tomato trade with Mexico. Suspension agreements might be an effective tool for products that can be kept in storage until market conditions improve, but for highly perishable items like fresh tomatoes, there is just too much incentive to evade the reference prices when markets are oversupplied." The Florida Tomato Exchange also cited the following statistics: "In 1994, the year NAFTA was signed, American tomato farmers supplied about 80 percent of the U.S. market; Mexico accounted for around 20 percent. Today, Mexico's share of the U.S. market is almost 70 percent while U.S. producers have approximately 30 percent."
USMCA
U.S. invokes USMCA's rapid response labor mechanism with Mexico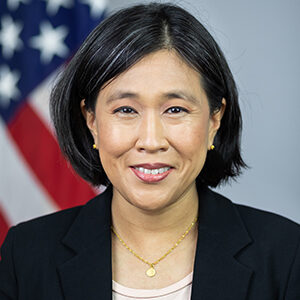 The U.S. is requesting Mexico review the worker conditions at the Grupo Yazaki facility in the state of Guanajuato. The request, which was initiated in response to a petition, marks the 12th time the U.S. has formally invoked the Rapid Response Labor Mechanism (RRM) in the United States-Mexico-Canada Agreement (USMCA), according to the

USTR statement.

The Planta León facility, owned by parent company Yazaki Corporation, produces electrical components for autos.

USTR Ambassador Tai stated that "Workers' right to free and fair union democracy votes is critical to the success of Mexico's labor reform and is a key component of the USMCA labor provisions. Today we ask Mexico to review a situation involving interference in this fundamental right. Through the RRM, we have a proven, successful mechanism to work with the Mexican government to support and complement their domestic labor enforcement efforts. We look forward to collaborating with the Government of Mexico to address the issues at this facility and uphold workers' rights to freedom of association and collective bargaining across Mexico."
Thea Lee, Deputy Under Secretary for International Affairs at the U.S. Department of Labor further called on Grupo Yazaki to treat workers fairly and stated that "Respect for workers' right to approve their collective bargaining agreement, freely and without interference, is a critical component of Mexico's labor reform." Lee further stated, "We value our strong partnership with the Mexican government and look forward to resolving this matter jointly to ensure that every worker's voice is heard, respected, and valued, and so that workers fully understand these votes and their consequences. Respect for workers' right to approve their collective bargaining agreement, freely and without interference, is a critical component of Mexico's labor reform. We value our strong partnership with the Mexican government and look forward to resolving this matter jointly to ensure that every worker's voice is heard, respected, and valued, and so that workers fully understand these votes and their consequences."

As outlined in USMCA provisions, Mexico has 10 days to agree to conduct a review and, if it agrees, 45 days from today to complete the review.
U.S., Mexico agree to remediation for garment facility workers
Last week, the U.S. and Mexico

agreed on remediation

steps to address worker rights violations at a Mexican garment factory that supplies Levi's. The remediation, which will address denials of rights at the Industrias del Interior facility in the state of Aguascalientes, represents the sixth time the two trade partners have agreed on a formal course of remediation regarding a labor rights complaint filed under USMCA's Rapid Response Labor Mechanism. The agreement resolves a request the U.S. lodged with Mexico last June asking Mexico to review whether INISA workers were being denied the right to freedom of association and collective bargaining.

Commenting on the agreement, USTR Katherine Tai noted, "We will closely monitor this remediation plan to ensure workers at the INISA facility can freely exercise their freedom of association and collective bargaining rights. Today's announcement reflects how continued collaboration between the United States and Mexico leads to concrete and effective measures to address existing labor violations and prevent new ones."

Labor Department Deputy Under Secretary for International Affairs, Thea Lee added, "Through the Rapid Response mechanism, we have made it clear that companies are expected to respect the representative union and negotiate in real collective bargaining, whether in cases involving the auto sector or like today in the garment sector. We applaud the parties for reaching this agreement, and we again recognize the strong collaboration with the Government of Mexico in protecting workers' rights."

Under the course of remediation, the Government of Mexico will:

Ensure that INISA posts, disseminates, and abides by a public, written statement in which INISA commits to: ensure respect for the rights of freedom of association and collective bargaining; affirm its neutrality on workers' union choices, and guarantee its non-interference in all union activities; and refrain from attempts to influence workers' views on unions or union officials in any way.

Ensure INISA issues transparent guidelines that govern the conduct of personnel at the facility, implement the commitments of the neutrality statement, and establish the rights provided to workers, union representatives, and union advisers at the facility.

Ensure INISA implements a zero-tolerance policy for violations of the guidelines and neutrality statement.

Ensure INISA trains all company personnel and union representatives on the company guidelines and neutrality statements.

Offer a telephone line and/or direct email address for workers to anonymously report any intimidation, coercion, or threats with respect to their selection of a union or union activities, or non-neutrality, or interference in internal union affairs.

Conduct in-person workers' rights training for all company personnel during normal working hours and post and distribute informational material at the facility regarding freedom of association and collective bargaining.

Initiate sanctions proceedings, according to Mexican law, if Mexico has information that shows violations of Mexican law, and impose appropriate sanctions against individuals, labor organizations, or companies that have been found to violate Mexican law.
IPEF
IPEF 5th round announced, September in Bangkok
The fifth round of negotiations on the Indo-Pacific Economic Framework (IPEF) will take place Sept. 10-16 in Bangkok, Thailand. Leading the U.S. interagency delegation will be Sarah Ellerman, IPEF Pillar I Chief Negotiator and Assistant USTR for Southeast Asia and the Pacific, and Sharon H. Yuan, U.S. Department of Commerce Counselor and Chief Negotiator for Pillars II-IV, according to the Office of the United States Trade Representative (USTR) and the U.S. Department of Commerce

statement

.

The agencies noted that "IPEF participants will continue to make progress on negotiations towards high-standard outcomes under Pillars I (Trade), III (Clean Economy), and IV (Fair Economy)." Biden Administration trade officials have signaled an ambition to substantially complete the IPEF in November in advance of the U.S.-hosted November Asia Pacific Economic Cooperation (APEC) forum leaders' summit.

Recall the fourth negotiating round was held in Busan, South Korea, from July 9-15, 2023. On May 27, the U.S. hosted delegates from 13 IPEF countries in Detroit, MI, for the IPEF ministerial led by Commerce Secretary Gina Raimondo and U.S. Trade Representative Katherine Tai. Prior rounds were held in Brisbane, Australia (round one, Dec. 10-12, 2022), followed by a special negotiating round on Pillars II-IV in New Delhi, India (Feb. 8-11, 2023), Bali, Indonesia (round two, Mar. 13-19, 2023), and Singapore (round three, May 8-15, 2023).
The

IPEF

negotiating countries besides the U.S. include Australia, Brunei Darussalam, Fiji, India, Indonesia, Japan, the Republic of Korea, Malaysia, New Zealand, the Philippines, Singapore, Thailand, and Vietnam. Notably, India opted out of negotiations on the trade pillar.
USTR, Commerce Department announce IPEF round five listening sessions
In preparation for the fifth round of IPEF trade talks next month, the Commerce Department and the Office of USTR will convene two stakeholder

listening sessions

. The first session (virtual) will be held on Aug. 24. Participants must

register

by Tuesday, Aug. 21. The second listening session will be held in-person in Bangkok on Sept. 14. Registration of all participants must be confirmed via the following three email addresses: [email protected]; [email protected]; usc[email protected]. Registration closes on Thursday, Sept. 7.
Section 232
Section 232 reform legislation reintroduced
Last week, Representatives Mike Gallagher (R-WI) and Don Beyer (D-VA)

reintroduced

Section 232 reform legislation, the Congressional Trade Authority Act (

CTA

). Among other provisions, the bipartisan bill would require the President to submit to Congress any proposal to adjust imports in the interest of national security under Section 232 of the Trade Expansion Act of 1962. Other changes to reform the use of Section 232 authority by the President include:

Requiring Congressional votes to approve trade actions taken under Section 232, including the current Section 232 tariffs.

Establishing a statutory exclusion process operated by the International Trade Commission that includes mandatory elements to increase the transparency and predictability of the exclusion process.
Giving the Secretary of Defense lead responsibility for Section 232 investigations, with Commerce in an advisory role.
Requiring Congressional votes to approve trade actions taken under Section 232, including the current Section 232 tariffs.

Representative Gallagher released a statement announcing the bill, "Congress' penchant for ceding its constitutional authorities to the Executive Branch has left the institution weak and the country increasingly governed by executive fiat. This bipartisan bill takes a step to reverse this trend by restoring our voice in the tariff process and what constitutes a national security threat under Section 232. Whether it's spending, war powers, or trade, it's far past time for Congress to reassert itself as the dominant branch of government and claw back its Article I authorities."
Congressman Beyer added, "Section 232 national security tariffs were historically used sparingly and strategically, but that changed under the previous administration, showing the need for Congress to reassert its constitutional prerogatives to provide oversight of U.S. trade relations. This legislation will ensure that future administrations do not abuse national security authorities to impose tariffs without clear objectives and without Congressional approval. Tariffs are a powerful tool to combat unfair trade practices, but they impose significant costs on American consumers, and Congress must have the ability to weigh in on any future 232 trade actions."
Taiwan
Biden signs Taiwan trade pact, states concerns with new negotiating procedures
Last week, President Biden

signed

The United States-Taiwan Initiative on 21st-Century Trade First Agreement Implementation Act, formalizing the trade deal signed by the U.S. and Taiwan and laying out specific procedures required by the executive branch regarding further negotiations with Taiwan. After the signing, the President expressed "constitutional concerns" with the parameters of additional negotiations with Taiwan intended to reassert Congressional authority over trade and enhance consultations between Congress and the USTR.
Citing Section 7 of the bill, the President issued a

statement

that noted the bill "includes requirements for the negotiation of certain further trade agreements with Taiwan that raise constitutional concerns." Section 7 directs the Office of USTR to give the Senate Finance and House Ways & Means committees any future negotiating texts exchanged under the U.S.-Taiwan Initiative on 21st Century Trade and "would preclude the USTR from transmitting United States-proposed texts to Taiwan while the Congress is reviewing them," among other provisions referenced in the statement. Notably President Biden concluded, "In cases where the requirements of section 7 of the Act would impermissibly infringe upon my constitutional authority to negotiate with a foreign partner, my Administration will treat them as non-binding."
U.S. – China
Mexico, Canada top import sources surpassing China
The Commerce Department's latest trade data reveal Mexico and Canada have surpassed China as the leading sources of imported goods as economic tensions rise with China and the onshoring trend encourages more diversified supply chains. The U.S. imported approximately $203 billion in goods from China in the first six months of the year, down 25% from the same period in 2022. Mexico replaced China, followed by Canada, as the imported goods leader for the first half of 2023. Goods imports from Mexico were up 5.4% in the first half from a year ago.

These developments come within the context of a broader economic slowdown in China. Exports leaving China were lower than expected, plunging by 14.5% this July when compared to July of 2022. This makes July the third month in a row in which Chinese exports decreased.
Trade Policy
U.S. lamb industry request Section 201 investigation
Last week, a group of sheep producers filed a request for trade relief from the Biden Administration via an investigation under Section 201 of the 1974 Trade Act into lamb imports. The 33-page

petition

was filed by Protect American Lamb, a project under the auspices of the R-CALF USA Sheep Committee, with members from nearly 15 states, according to R-CALF's

website

.

"Since the time the U.S. entered its first major free trade agreement – the 1994 North American Free Trade Agreement – lamb and mutton imports have increased over 543% in quantity and 2,363% in value. These imports have displaced domestic lamb and mutton production, which has declined 60% during this period," wrote the group.
The petition continued, "And despite America's marked increase in lamb and mutton consumption that began in earnest a decade ago, all the increase has been captured by foreign supply chains while domestic production continually declines. These foreign supply chains have now captured 74% of the domestic market – away from full-time U.S. sheep producers."

Recall that the Section 201 statute, often termed "global safeguard", allows the President to impose temporary import restrictions in the form of quotas and or additional tariffs on imports, giving import relief for the domestic industry to respond to competition. Former President Donald Trump imposed Section 201 tariffs on imported

solar panels

and

washing machines

, after the U.S. industry filed a request for import relief and the U.S. International Trade Commission's investigation determined that imports were a "substantial cause of serious injury" to domestic producers.
Russia
USTR invites input on Russia's WTO compliance
The Office of the U.S. Trade Representative is soliciting public comments in conjunction with a required annual report on Russia's implementation of its obligations under the World Trade Organization (WTO). Public comments are being accepted through Sept. 20, according to a Federal Register

notice

. Additionally, a public hearing on Russia's WTO implementation is scheduled for Oct. 12 at 10 a.m. ET. The agency noted that written comments and/or oral testimony should address Russia's implementation of the commitments made in connection with its accession to the WTO, including, but not limited to, commitments in the following areas:

Import regulation (e.g., tariffs, tariff-rate quotas, quotas, import licenses)
Export regulation
Subsidies
Standards and technical regulations
Sanitary and phytosanitary measures
Trade-related investment measures (including local content requirements)
Taxes and charges levied on imports and exports
Other internal policies affecting trade
Intellectual property rights (including intellectual property rights enforcement)
Services
Government procurement
Rule of law issues (e.g., transparency, judicial review, uniform administration of laws and regulations)
Trade facilitation
Other WTO commitments

By way of background, Russia joined the WTO in 2012. In accordance with Section 201(a) of the Russia and Moldova Jackson-Vanik Repeal and Sergei Magnitsky Rule of Law Accountability Act of 2012 (Public Law 112–208), USTR is required to submit, annually, a report to Congress on the extent to which Russia is implementing WTO agreements, including the Agreement on the Application of Sanitary and Phytosanitary Measures and the Agreement on Trade Related Aspects of Intellectual Property Rights.
Food Security
Food prices increase in July
New data from the Bureau of Labor Statistics shows overall inflation increased slightly for the second consecutive month, with overall prices rising 3.2% when compared to a year prior. The

Consumer Price Index (CPI)

rose only 0.2% in July, driven largely by a 7.7% increase in the cost of housing.

The food index increased 0.2% in July paralleling a 0.2% increase the previous month. The index for food at home increased 0.3% over the month while the index for food away from home rose 0.2% in July.
Over the 12 months ending July 2023, prices for food at home increased 3.6%, compared with an increase of 4.9% for food overall. Prices for food away from home increased 7.1% for the year ending July 2023.
Trade Trends
Trade deficit in goods and services continued narrowing in June
The goods and services deficit registered $65.5 billion in June, down $2.8 billion (or 4.1%) from $68.3 billion in May, the Census Bureau reported last week. The decline in the monthly trade imbalance was propelled by receding import demand as the value of imported goods fell to the lowest level since November 2021. The June decrease in the goods and services deficit reflected a decrease in the goods deficit of $2.8 billion to $88.2 billion and a decrease in the services surplus of $0.1 billion to $22.7 billion. Additional details released by

Census Bureau

:

June exports were $247.5 billion, $0.3 billion less than May exports. June imports were $313.0 billion, $3.1 billion less than May imports.
Year-to-date, the goods and services deficit decreased $117.7 billion, or 22.3%, from the same period in 2022. Exports increased $37.6 billion or 2.5%. Imports decreased $80.1 billion or 4.0%.
Year-over-year, the average goods and services deficit decreased $14.2 billion from the three months ending in June 2022. Average exports decreased $7.3 billion from June 2022. Average imports decreased $21.6 billion from June 2022.